Why are backlinks so important?
If you have a website and want to improve your website's SEO, one of the important factors that you should optimize is backlinks, why are backlinks so important? Basically, backlinks are considered as validation of a website for trusted content, the purpose of validation here is that links from your website pages are stored on other sites that have credibility in the eyes of search engines. Search engines such as Google, Bing, etc., will give authority to your site because it has good and trusted content, this is because your site is distributed on other credible sites.
What are Backlinks and their types?
Backlinks will help your site to be easier to find with some additional information made by other sites, if you create quality and interesting content, of course the content has a high chance of being spread on other sites. The number of quality backlinks will determine the position of your site in the SERP (Search Engine Result Pages).
There are several common types of backlinks, including:
Do-follow Backlinks
A backlink to tell search engines to calculate SEO.
No-follow backlinks
A backlink to tell search engines not to count against SEO.
Editorial Backlink
A natural backlink from another site accompanied by quality content as a source of information.
Comment Backlink
This backlink is usually caused by the inclusion of a link in the comments column on other sites.
Guest Post Backlink
This type of backlink allows you to build credibility and trust in your site that other people do.
How to use this Backlink Checker tool?
As you know that in search engines, there are billions of scattered links, this tool will help you to analyze or track your website pages on other sites, and we also include several indicators to make it easier for you to analyze such as:
Domain Authority (DA)
Page Authority (PA)
Anchor Text
Link Destination
Website page title and tracked site source location.
Our Backlink Checker Tool provide 4 types of backlinks that you can analyze including, high quality backlinks, poor backlinks, new backlinks and top referrer backlinks, the four types of backlinks have different functions. High quality backlinks refer to links that point to your domain on a particular website, we also analyze several other indicators that you may need such as Domain authority, Page Authority, and others. These indicators are also found in other types of backlinks so that when you are looking for backlink references on your website, you also get additional information that is very useful for you.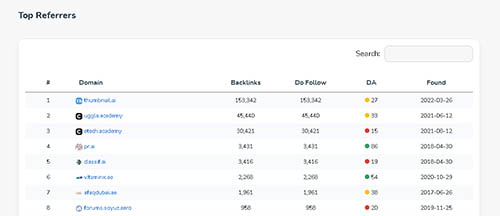 Why are Backlinks so important in SEO?
A backlink is a link that is on another website, this is also called an incoming link and usually, the more backlinks a website has, the better the website's performance will be, it's like this. maybe you wouldn't think that other people who read your article might be very grateful to you for providing the information that other people need, and at that time, other people will spread the link of your article page to other sites or social media, that's a backlink. Backlinks will usually work by themselves if you create useful content for others, the more you focus on your content, the greater the chance to get backlinks from others.
The benefit of backlinks is the higher the chances of ranking higher. Google and other search engines consider backlinks as a type of recommendation, the more links found, the more your domain is considered a trusted and relevant site.
When you are building backlinks, don't just focus on backlinks, focus on any quality content as described earlier, most of the backlinks are targeted to sites that have higher authority. But you also need to know that having a lot of backlinks but being on a site that has low quality then your SERP ranking will go down, that's because search engines will consider it spam, it's better to have 5 quality backlinks than to have 100 low quality backlinks.
Therefore, Genelify Backlink Checker tool is needed to check this, to check your backlinks out there.