How important is a keyword?
Keywords are needed in a business to embrace users to interact with your business, not only business, keywords themselves are needed for various needs such as blogs, websites and titles for YouTube. To find a suitable keyword is indeed easy and difficult, you need more effort to find it, because a keyword will determine everything whether it's traffic, engagement and others. And also to determine a keyword must be accompanied by in-depth research or not just pick it up, the more you research further about the research being carried out, the greater your chances of getting what you want.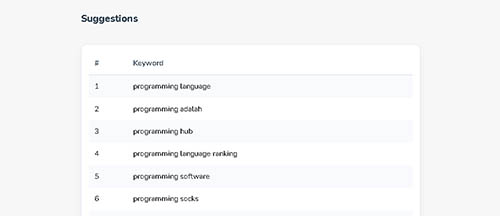 How to use this Keyword Suggestion Tool?
Billions of keywords are already circulating in this digital world, therefore we need various ways to get them, including using our tool. Besides we also provide a tool to research a keyword, you can also use this keyword suggestion tool to find other keywords related to your main keyword with the targeted country. You can use Genelify keyword suggestion tool for free and can be used at any time, how to use it is very easy, you only need to enter your main keyword and the targeted country, wait until the process is successful.
If you are looking for an alternative tool for keyword search, keyword suggestion is the solution
If you are a business owner, online content marketer, or content creator, who wants more traffic coming to your website or blog, the easiest way is to find out what users are looking for when they are searching in the Google or Bing SERPs. . Every search is an expression of the user to find needs, desires and you as a content provider, service providers are required to fulfill this to meet customer needs.
Therefore, this keyword suggestion tool from Google will help you to find thousands of short and long tail keywords, and suggestions from Google searches are done automatically based on the domain and language you use or choose. This will help you to find keywords that suit your needs based on your current location. The Keyword Tool is a free online keyword research tool that uses Google Autocomplete to generate thousands of keywords relevant to your business on any topic.
Google Autocomplete is an extraordinary feature and is used in search engines, the purpose of making this Google Autocomplete is to make it easier for users to find keywords that are relevant and can be used in search engines, keywords that appear are selected based on how often users search for these keywords in the past .
Help you to find the right keywords
This tool uses Google Suggestion to search and research keywords, and all the keywords that appear are the result of extracting keyword suggestions from Google, to generate long tail keywords, the keyword tool will add some additional words that you have specified and place them into the Google search system and will generate some keyword suggestions.
And also will generate keywords in just a few seconds across a wide variety of languages, so you can quickly find and analyze thousands of keywords for free.