What is Domain age checker tool?
Genelify Domain age checker tool can help you find out the age of your domain name and the original registration date. If you want to buy a premium domain name, knowing the age of the domain can help you understand the history of the domain name.
One of the criteria used by search engines to rank websites is the age of the domain name. Older websites (and domain names) are probably more robust than newer websites and offer more credibility to search engines.
Talking about SEO, many factors determine the ranking of your website in search engines whether it's backlinks, keyword density, on-page SEO, these are common factors that we usually encounter in articles. But you need to know that there are other factors that are very influential, namely the age of the domain. Domain age is very influential because the credibility of the domain is active, with this tool you can find out how old your domain is and that of your competitors, from the first time it was registered to the present. Domain age is another determining factor because it is considered very important by search engines, in addition to tracking the age of your domain and your competitors, this tool can be used to see the age of the domain you are about to buy. With the longer the age of the domain, it tends to increase rankings on the SERPs, this tool can track in real time the age of the domain so that it is easier for you to sort out the domains to buy.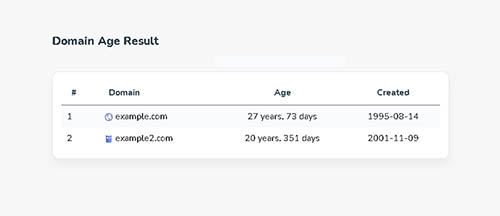 Domain age checker tool will provide domain age information quickly
Domain Age Checker tool does not require any registration or installation, this tool only detects how old a domain is and very easy to use, you can enter a maximum of 5 domains per request for checking. By knowing how old the domain is you can determine how long the website has been registered with hosting, but it is necessary to underline the information from the initial registration of the domain, not registration at Google indexing.
As additional information, the age of the domain is very important for SEO, but it is also necessary to consider the credibility of the domain while it is active, if you want to buy a domain you need to first check what the domain has been used for, besides that the age of the domain does not refer to how old it is. the domain, but since when the site owner first registered with Google for indexing, most companies prefer the age of the existing domain, if the domain was registered about 5 years ago it doesn't mean Google considers it 5 years, because it can be different.