Free Meta Tag & Robots.txt Generator for your website
Hello... this is a Meta Tag & Robots.txt Generator for meta tags and robots.txt for your website, when building a website, meta and robots.txt are very important for search engines to pick up and understand your content.
This tool can help you in creating meta tags quickly. In a website document, meta tags are needed to show important information on your website, this is very influential on SEO and traffic. Meta tags used will usually provide some information such as title, description, snippets from Facebook or Twitter and others that will provide results that match the SERPs on search engines.
Meanwhile, robots.txt is also indispensable in a website, this component is needed to limit the access of search engine bots when crawling your website and prohibit bots from fetching private web pages. To make it quick, we provide a free tool to automatically generate meta tags and robots.txt that you can use on your website.
You just need to enter the data you need without creating it from scratch, after it's generated, just copy and paste it into your website coding.
Benefits that are obtained apart from free, you can use anytime without restrictions and very easy to use.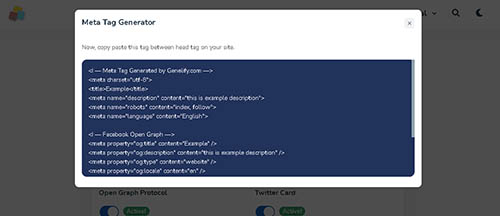 Why do you need this meta tag generator tool?
In the head tag in HTML, there are many elements to determine your website from the information needed by bots such as the language used, the content of the title, the content of the description and others, it is very dangerous if you do not fully understand how to add additional meta tags to your site, the slightest error will result in the loss of the information needed by the bot, you need to know that the search engine bot will read not only the content of your web page, but also with meta tags, by adding the required meta tags will make it easier for bot engines to determine the website what are you like.
To save your time in adding meta tags to your pages, you can use this Genelify Meta Tag & Robots txt generator tool, besides getting meta tags automatically you can also add robots.txt to your site.
What is Robots txt?
Robots txt is a text file that contains information to determine which pages are allowed to be crawled by bots, and avoid indexing privacy pages such as admin pages, just imagine if admin pages are indexed into search engines, of course other people will knowing the URL of your admin page, this will certainly harm your site.
By using the robots txt generator, you can easily set which bots are allowed to crawl your website pages and which pages are not indexed.